Flood Infrastructure Fund (FIF)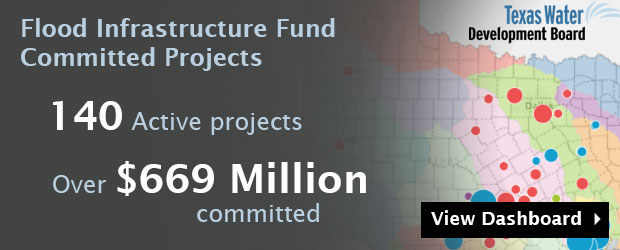 Draft SFY 2024-2025 Flood Infrastructure Fund Intended Use Plan
Draft SFY 2024-2025 FIF IUP Public Comment Notice
The TWDB invites stakeholders to review and comment on the proposed Flood Infrastructure Fund (FIF) SFY 2024-2025 Intended Use Plan (IUP). Comments on the IUP should be submitted to FIF@twdb.texas.gov. The public comment period will end January 1, 2024.
---
Passed by the Legislature and approved by Texas voters through a constitutional amendment, the FIF program provides financial assistance in the form of loans and grants for flood control, flood mitigation, and drainage projects. The Flood Intended Use Plan (Flood IUP) details the structure of each funding cycle.
In addition to its administration of the FIF, the TWDB is working collaboratively with the Texas General Land Office and Texas Division of Emergency Management to assist communities in determining which of the available funding sources for flood-related projects is the best fit for them. The Flood Information Clearinghouse Committee (FLICC) represents an ongoing multi-agency effort to maximize the effective utilization of public funding resources and help communities identify the source they would like to pursue.
The current 2020 Flood IUP is closed, and additional projects are not being considered at this time. Please join the TWDB mailing list to be notified of further developments, including opportunities to apply.
---
Funding Categories
---
How to Apply
Visit the FIF Application and Pre-Application Webinars page for information on how to apply to the program. Currently, the FIF Program is only accepting applications from entities invited from the Board approved FIF Prioritization List.
---
Additional Resources
TWDB FIF-Related Guidance Materials
U.S. Census Bureau American Community Survey (ACS) Data
Metropolitan Statistical Area (MSA) Information
Flood-Related Federal Funding Transparency Report
TWDB FIF-related Guidance Manuals