Texas Instream Flow Program
The Texas Instream Flow Program was created by the Texas Legislature in 2001 to assess how much water rivers need to maintain a sound ecological environment. The program is administered by three agencies: Texas Commission on Environmental Quality, Texas Parks and Wildlife Department, and Texas Water Development Board. For the first time in Texas, state agencies and the public are collaborating on scientific studies to determine how much water should flow in rivers for a healthy environment.
The program was created in 2001 by the state legislature to study Texas rivers and streams in an effort to determine the amount of water required to maintain a healthy river (sound ecological environment). The studies are intended to answer the following key questions in rivers and streams across the state:
What makes a healthy environment for each river or stream?
How much water should flow in each river or stream to ensure a healthy environment?
Study results will be used as best available science for water management to guide state agencies in managing rivers and streams.
What is an Instream Flow? An instream flow is an amount of water running in a river, usually measured by the volume moving down the channel in a specified amount of time (discharge). A variety of instream flows are required to maintain a healthy river.
How does it work?
TIFP studies for specific river sub-basins will be conducted in a four step process involving public/stakeholders and scientific peers as well as multidisciplinary technical studies.
Step 1. Reconnaissance and Information Evaluation
With the assistance of public/stakeholders, the Agencies will assemble and evaluate available data for the river system. Current data and understanding will be supplemented with reconnaissance activities and preliminary analysis.
Step 2. Goal Development Consistent with a Sound Ecological Environment
Through a collaborative process, the Agencies and public/stakeholders will develop a study design including goals, objectives and descriptions of proposed technical studies. The study design will also be reviewed by scientific peers.
Step 3. Multidisciplinary Data Collection and Evaluation
Technical studies will be conducted in accordance with the study design completed in the previous step. Data collection workshops and/or field demonstrations will be conducted as requested by public/stakeholder groups.
Step 4. Data Integration to Generate Flow Recommendations
With public/stakeholder input, the Agencies will synthesize results of technical studies and develop recommendations for an instream flow regime. A study report will be finalized after review by public/stakeholders and scientific peers.
Priority Study Sub-Basins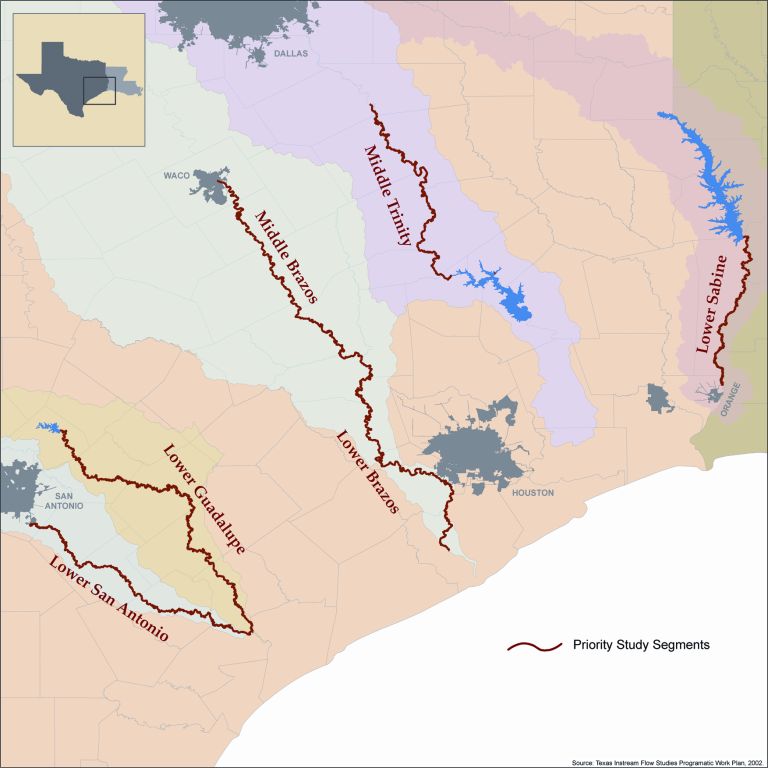 Six river sub-basins have been identified as priority instream flow studies. These sub-basins were selected based on potential water development projects, water rights permitting issues, and other factors. Studies for these sub-basins will be completed by the end of 2016. Meetings with the public and stakeholders began in 2008 and study designs are being developed for four of these sub-basins:
Outcomes from these meetings include:
Ongoing Studies
Technical studies completed for the Texas Instream Flow Program asses how water flow affects river characteristics, such as:
Aquatic life and habitat
Water Quality
Movement of nutrients and organisms
Stream channel formation
Relationships between rivers and surrounding habitat
Peer Review
Scientific peer review is an important part of the Texas Instream Flow Program. Peer review is intended to increase public trust and improve the technical soundness of products and recommendations. The program greatly benefited from a National Academy of Sciences Review completed by the National Research Council in 2005. TIFP has contracted with the USGS to provide scientific peer reviews of the study designs developed for the Lower Sabine, Middle and Lower Brazos, and Lower San Antonio river sub-basins.
Funded Research
Through the Research and Planning Fund and other sources of funding, the three Agencies support research to 1) improve instream flow assessment techniques in Texas in general and 2) collect and analyze data related to specific priority study sub-basins. Results from completed studies are documented in study reports. Reports for ongoing studies will be posted to the web as they become available.
Contact Us
Contact us if you have questions or need more information; want to receive our electronic newsletter; plan to attend a public meeting or participate on a study design workgroup; or have comments or feedback for the Texas Instream Flow Program. We can be reached by: