BRACS studies
BRACS studies can be conducted in-house by BRACS staff or externally by a consulting firm under contract with TWDB and staff member managing the contract. A study typically consists of:
evaluating publically available water well records, geophysical well logs, and geologic reports,
entering information into the BRACS Database,
comparing top, bottom, and lateral extent of water–bearing geologic formations,
interpolating data points from BRACS Database to build new formation structures,
mapping the water-bearing portions of the aquifer and their hydraulic properties,
estimating salinity from water well records and geophysical well logs,
estimating volumes of brackish groundwater,
preparing geographic information system files, and
writing a report summarizing findings.
The TWDB has completed 14 studies on a portion of an aquifer or a whole aquifer and is currently working on 3 more studies.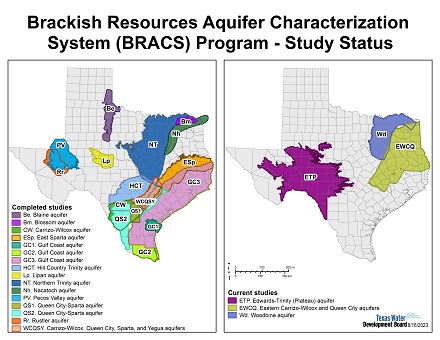 Future Studies
| Aquifer | Start Date | End Date | Type | Total Cost | Keywords |
| --- | --- | --- | --- | --- | --- |
| Dockum Aquifer | Spring 2017 | TBD | In-house | - | Brackish, Groundwater, Aquifers |
Completed Studies
Complete Date
Project Name
Contract/Report Number
Contractor
Funding
8/2023
Sparta Aquifer, East Texas
390
In-house
-
9/2022
Hill Country Trinity Aquifer and Trinity Group Formations
388
In-house
-
2/2022
Develop Procedures and Tools to Delineate Areas Designated or Used for Class II Well Wastewater Injectate
2000012453
WSP USA

$500,000

1/2022
Sampling of High Salinity Groundwater in Texas
2000012445
U.S. Geological Survey

$222,300

1/2022
Data Entry for Upper Coastal Plain East Aquifers
2000012440
Allan R. Standen, LLC

$226,000

1/2022
Core Testing for Hill Country Trinity Aquifer
2000012440
Allan R. Standen, LLC

$219,710

8/2021
Brackish Groundwater Comingling
2000012442
INTERA, Inc.

$137,700

8/2021
Seismic Interpretation
2000012442
INTERA, Inc.

$150,000

8/2021
Drilling and Logging Ideal Well
2000012441
Daniel B. Stephens & Associates, Inc.

$135,000

8/2021
Core Testing and Numerical Well Simulations for Edwards-Trinity (Plateau) Aquifer
2100012507
The University of Texas at Austin, Hildebrand Department of Petroleum and Geosystems Engineering

$90,736

12/2020
Wilcox, Carrizo, Queen City, Sparta, and Yegua aquifers, Central Texas
385
In-house
-
-
Carrizo-Wilcox, Queen City, and Sparta aquifers
-
Contract
$181,446
4/2018
Northern Trinity Aquifer
-
In-house
-
1/2018
Trinity Aquifer
1600011950
Southwest Research Institute
$400,000
12/2017
Brackish Groundwater in the Lipan Aquifer Area, Texas
384
In-house
-
11/2017
Identification of Potential Brackish Groundwater Production Areas - Blossom Aquifer
1600011951
LBG-Guyton Associates
$50,000
11/2017
Identification of Potential Brackish Groundwater Production Areas - Nacatoch Aquifer
1600011952
LBG-Guyton Associates
$150,000
1/2017
Identification of Potential Brackish Groundwater Production Areas - Gulf Coast Aquifer
1600011947
INTERA, Inc.
$500,000
11/2016
Identification of Potential Brackish Groundwater Production Areas - Blaine Aquifer
1600011948
Daniel B. Stephens & Associates, Inc.
$200,000
11/2016
Identification of Potential Brackish Groundwater Production Areas - Rustler Aquifer
1600011949
INTERA, Inc.
$200,000
09/2014
Brackish Groundwater in the Gulf Coast Aquifer, Lower Rio Grande Valley, Texas
Gulf Coast Aquifer GIS Datasets (128.0 MB)
383
In-house
-
05/2014
Queen City and Sparta Aquifers, Atascosa and McMullen Counties, Texas: Structure and Brackish Groundwater
Queen City and Sparta Aquifer GIS Datasets (23.6 MB)
14-01
In-house
-
09/2012
Geologic Characterization of and Data Collection in the Corpus Christi Aquifer Storage and Recovery Conservation District and Surrounding Counties
12-01
In-house
-
06/2012
Pecos Valley Aquifer, West Texas: Structure and Brackish Groundwater
Pecos Valley Aquifer GIS Datasets (92 MB)
382
In-house
-
03/2012
Geophysical Well Log Data Collection Project
1100011198
Bureau of Economic Geology
$300,000
11/2011
Brackish Groundwater Bibliography Project
1100011198
Bureau of Economic Geology
$99,500
11/2011
An Assessment of Modeling Approaches to Brackish Aquifers in Texas
1100011196
INTERA, Incorporated
$50,000
1992
Borehole Geophysical Techniques for Determining the Water Quality and Reservoir Parameters of Fresh and Saline Water Aquifers in Texas
84-483-511
Collier Consulting, Inc.
$356,991