Region N Planning Group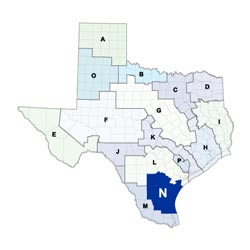 The Coastal Bend Regional Water Planning Area includes 11 counties, portions of the Nueces River Basin, and its adjoining coastal basins, including the Nueces Estuary. The region's largest economic sectors are service, retail trade, government, and the petrochemical industry. Corpus Christi is the region's largest metropolitan area. The next largest cities in the region are Kingsville, Alice, Beeville, Portland, and Robstown.
Region N Counties
Aransas
Bee
Brooks
Duval
Jim Wells
Kenedy
Kleberg
Live Oak
McMullen
Nueces
San Patricio
Meeting Minutes & Updates
Last Meeting: The most recent Region N Regional Water Planning Group (RWPG) regular meeting was held on February 20, 2020.
Meeting Minutes: Visit the "Meeting Minutes" link on Region N's External Website for official planning group agendas and meeting minutes.
Next Meeting: Please see the Upcoming Regional Water Planning Group Meetings webpage for information on the next Region N meeting.
Region N Bylaws
Region N Water Plans
TWDB Contacts for Region N
For regional water planning assistance, please contact Kevin Smith, Region N Project Manager, 512-475-1561.
For regional water project development assistance, please contact Mireya Loewe, Team 6 Manager.