Region H Planning Group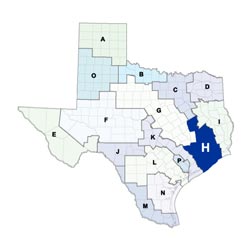 Composed of all or parts of 15 counties, Region H includes portions of the Trinity, San Jacinto, and Brazos river basins. The Houston metropolitan area is located within this region. The largest economic sector in Region H is the petrochemical industry, which accounts for two-thirds of the petrochemical production in the United States. Other major economic sectors in the region include medical services, tourism, banking, construction, transportation, government, agriculture, and fisheries.
For a detailed map of Region H, please visit the Texas Natural Resources Information System (TNRIS) Regional Water Planning Area Map Collection.
Region H RWPG External Website
Region H Counties
Austin
Brazoria
Chambers
Fort Bend
Galveston
Harris
Leon
Liberty
Madison
Montgomery
Polk (partial)
San Jacinto
Trinity (partial)
Waller
Walker
Region H Bylaws
Region H Water Plans
Projections Data
TWDB Contacts for Region H
For regional water planning assistance, please contact Heather Rose, Region H Planner.
For regional water project development assistance, please contact Nancy Richards, Team 4 Manager.