Lake Wichita (Red River Basin)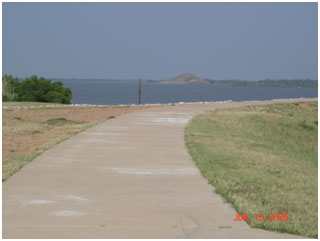 Lake Wichita is located approximately three miles southwest from the City of Wichita Falls in Wichita County, Texas on Holiday Creek, a tributary of the Wichita River, a tributary of the Red River.
Since 1890s, Joseph Alexander Kemp, former county treasurer and Wichita Falls merchant, attempted unsuccessfully to raise money to construct a dam across the Wichita River to prevent from flood hazards. When he learned that the Constitution of 1876 prohibited issuing bonds to support the building of an irrigation system, he went to Austin to lobby for a change in the law. But the bureaucratic process proceeded so slowly that he returned home and in 1900 and organized the Lake Wichita Irrigation and Water Company. Shortly after, he discovered a site for Lake Wichita which could provide water supply and flood control for the city. Construction of the lake began in 1900 and completed in 1901 at a cost of $175,000. In 1921 the dirt dam was replaced by concrete. Unfortunately, Lake Wichita was not named after Mr. Kemp since he was recognized later for his efforts on the larger lake, Lake Kemp7. The lake has a storage capacity of 14,000 acre-feet encompassing a surface area of 2,200 acres at its conservation pool elevation 980.5 feet above mean sea level.
7 - Data source: Texas State Historical Association on Lake Wichita