Toledo Bend Reservoir (Sabine River Basin)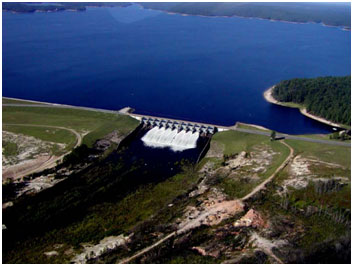 The Toledo Bend Reservoir, the largest reservoir in Texas, is formed by the Toledo Bend Dam which is about eighty miles northeast of Beaumont, Texas on the Sabine River. Although the Dam was built at the place called Toledo Bend, the reservoir occupies parts of Newton, Sabine, Panola, and Shelby counties, Texas, and Sabine and De Soto parishes, Louisiana. Construction of the Toledo Bend Dam on the Sabine River, here on the border between Texas and Louisiana, began on May 11, 1964, and deliberate impoundment of water began on October 3, 1966.
The dam was completed in 1969. Massman-Johnson Construction Company served as general contractor and the two states share in the cost of the project without Federal Government's assistance. The Toledo Bend Dam and Reservoir is owned by the Sabine River authorities of Texas and Louisiana. Its rolled earthfill dam has a top elevation of 185 feet above mean sea level with a maximum design water surface at elevation of 175.3 feet above mean sea level. Two hydroelectric units generate a total capacity of 80,750 kilowatt hours. Texas and Louisiana share the water and electricity. With a drainage area of 7,178 square miles, the Toledo Bend Reservoir conserves water for municipal, industrial, agricultural, and recreational purposes and stretches for well over 100 river miles. The lake has a conservation surface area of 181,600 acres and a shared storage capacity of 4,477,000 acre-feet at the conservation pool elevation of 172 feet above mean sea level. Designed total storage capacity is 4,661,000 acre feet at top of emergency spillway gates, elevation of 173 feet above mean sea level. Toledo Bend Reservoir is the largest man-made body of water in the South by surface area and fifth largest in surface acres in the United States. It is the third largest reservoir in or shared with Texas by total storage capacity.
Additional Information