Sheldon Reservoir (San Jacinto River Basin)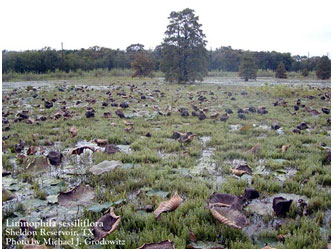 Sheldon Reservoir is located two miles southwest of Sheldon and 16 miles east of downtown Houston in Harris County, on Carpenters Bayou, a tributary of the San Jacinto River. The reservoir was created in 1943 when the federal government built a dam to provide fresh water for shipbuilding and shipping industries on the Houston Ship Channel during World War II. After the war, management of the reservoir was assumed by the City of Houston. The city sold water to ship-channel industries until 1953, when that supply was replaced by water from Lake Houston.
In 1952, after the construction of the dam that creates Lake Houston, the city sold the reservoir to the Texas Parks and Wildlife Department for use as a waterfowl sanctuary and public fishing site. In 1984, land around the reservoir was designated the Sheldon State Wildlife Management Area, with funds allocated by the Sixty-seventh Texas Legislature. The reservoir is almost three miles long and is more than a mile wide. It drains an area of about 19 square miles. The ten-foot-high earth embankment, Sheldon Dam, has a spillway crest elevation of 50.5 feet above mean sea level. The reservoir has a capacity of 4,224 acre-feet and covers 1,244 acres, at this elevation.