Santa Rosa Lake (Red River Basin)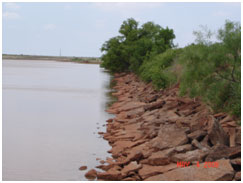 Santa Rosa Lake is located approximately fifteen miles south of Vernon in central Wilbarger County, Texas on Beaver Creek, a tributary of Wichita River which is a tributary of the Red River. The lake is on land belonging to the W. T. Waggoner Ranch and is owned by the landowner. The lake was named after the Santa Rosa pasture on which it lies within the Santa Rosa Line Camp on the ranch5. The original Water Right Permit (No. 976) for constructing a lower concrete dam on Beaver Creek was issued on November 4, 1927 but was amended (Permit No. 1124) to allow construction of a higher earthen dam (current dam) on August 15, 1929.
Construction of the dam started in 1929 and was completed and impounded begun in the same year. There were some repairs approximately in 1965. Water from this reservoir has been used for raising livestock, for irrigation and for mining. However, per Certificate of Adjudication (No. 02-5124) issued by the Texas Water Commission on August 7, 1987, the lake is now used solely for irrigation and livestock purposes. The lake has a storage capacity of 11,570 acre-feet encompassing a surface area of 1,500 acres, at its conservation pool elevation 1,167 feet above mean sea level. The dam controls a drainage area of approximately 336 square miles.
5 - Based on email from Ms. Marisa Tole, Cara Blanca Park Manager, W.T. Waggoner Ranch