Lewis Creek Reservoir (San Jacinto River Basin)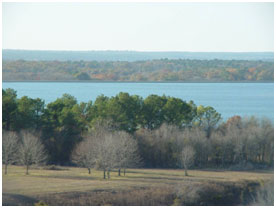 Lewis Creek Reservoir is located about three miles west of Willis in Montgomery County, on Lewis Creek, a tributary of west Fork San Jacinto River which is a tributary of the San Jacinto River. The reservoir is owned and operated by the Entergy (formerly Gulf States Utilities Company) mainly for condenser cooling in the steam electricity generation plant and for recreational use. Permit (No. 2433) was issued on September 21, 1967 to the company by the State Board of Water Engineers for construction of the dam. Construction of the earth-fill dam started on November 11, 1967 and completed on August 25, 1969.
Deliberate impoundment of water began on February 12, 1969 and power generation began in October, 1970. Brown and Root, Inc designed the dam and acted as General Contractor of the construction. The dam measures 12,836 feet in length with a maximum height of 54 feet from the river bed and a width of 18 feet. At the normal elevation, 267 feet above mean sea level, the reservoir will stores 16,400 acre feet of water with a surface area of about 1,010 acres. The drainage area is 4.4 square miles. Water will be purchased by contract from Lake Conroe and pumped as required to maintain desirable water level.