Buffalo Lake (Red River Basin)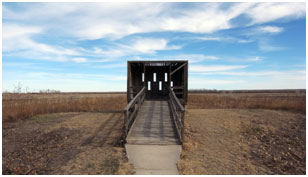 Buffalo Lake, formed by Umbarger Dam, is located three miles south of Umbarger in Randall County, Texas on Tierra Blanca Creek, a tributary of the Prairie Dog Town Fork Red River, which is a tributary of the Red River. Buffalo once fed on abundant grasslands in this area of the state, leading to the lake's name. The dam was built by the Federal Farm Securities Administration to store water for recreational purpose as part of the Bankhead-Jones Farm Tenant Act of 1937. Construction of the dam commenced in February 1938 and was completed on June 15, 1938. Deliberate impoundment of water began on June 9, 1938.
Water in this dry area of the state instantly attracted waterfowl along the Central Flyway. The Soil Conservation Service managed the lake for water conservation, recreation, and as a wildlife sanctuary until 1953, when the Forest Service took over. Recognizing the value of this lake for wildlife, the U.S. Fish and Wildlife Service took over on November 6, 1958 and officially designated the area the Buffalo Lake National Wildlife Refuge. Tierra Blanca Creek and natural springs fed Buffalo Lake for decades, until the 1970s when the Creek, and eventually Buffalo Lake, dried up. After a torrential rain filled the lake to capacity in 1978, Umbarger Dam was condemned and the lake was drained. In 1992, the Fish and Wildlife Service replaced Umbarger Dam with a modern flood control structure. In recent years during droughts, the lake has no water although major storms occasionally flood Tierra Blanca Creek. Several species of waterfowl use the lake as a winter refuge1.
The lake has a storage capacity of 18,150 acre-feet, encompassing a surface area of approximately 1,900 acres, at the conservation pool elevation of 3642.6 feet above mean sea level. The lake's drainage area is approximately 2,075 square miles, of which 1,500 square miles are probably noncontributing.
1 - Data source: Buffalo Lake National Wildlife Refuge's website, U. S. Fish & Wildlife Service