Region 4 Sabine Flood Planning Region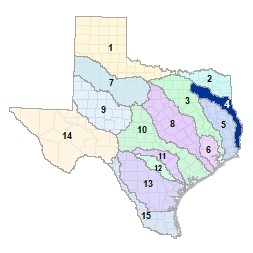 Originating in Collin, Rockwall and Hunt counties, the Sabine River and its many contributing creeks and bayous meander southeast to the Texas-Louisiana border. The Sabine becomes the border between the two states in Panola County where the river turns south and crosses through the Sabine National Forest on its journey to the Gulf of Mexico. The Sabine merges with the Neches River at Port Arthur on Sabine Lake and their combined flow enters the Gulf of Mexico through Texas Point National Wildlife Refuge. Smaller streams within the Texas portion of the basin include Cow, Big Sandy, and Fork creeks and the South Fork of the Sabine River. 12 major lakes and reservoirs are found in this region.
For a detailed map of Region 4, please visit the Texas Natural Resources Information System (TNRIS) Flood Planning Regions Map Collection.
Go to Region 4 Sabine RFPG External Host Website
Population Estimate (2019): 585,132
Approximate Area: 7,450 square miles
Approximate Stream Miles: 6,455
Approximate NFIP Claims (1975-2019): $525,184,329
Counties Represented:
Collin*
Franklin*
Gregg*
Harrison*
Hopkins*
Hunt*
Jasper*
Kaufman*
Newton*
Orange*
Panola*
Rains
Rockwall*
Rusk*
Sabine*
San Augustine*
Shelby*
Smith*
Upshur*
Van Zandt*
Wood*
*indicates this county is partially within this RFPG and is also represented by at least one other RFPG
Major Cities (Population greater than 25,000):
Greenville
Longview
Tyler*
*indicates this city is partially within this RFPG and is also represented by at least one other RFPG
Major Lakes & Reservoirs:
Brandy Branch Cooling Pond
Lake Cherokee
Lake Fork Reservoir
Lake Gladewater
Lake Hawkins
Lake Holbrook
Lake Murvaul
Lake Quitman
Lake Tawakoni
Lake Winnsboro
Martin Lake
Toledo Bend Reservoir
Ecoregions of Texas Represented:
Blackland Prairie
Gulf Prairies
Piney Woods
Post Oak Savanah
Regional Flood Planning Group Meeting Minutes & Updates
Please see the RFPG Meeting Schedule webpage for information on the past and upcoming meetings.