Region 13 Nueces Flood Planning Region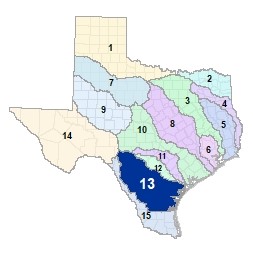 The Nueces River originates on the Edwards Plateau in Central Texas in Edwards and Real Counties. The Sabinal, Atascosa, Leona, and Frio Rivers and their numerous tributaries all feed the Nueces on its way to Nueces and Corpus Christi Bays. Extending south from Corpus Christi, a large portion of the Nueces-Rio Grande Coastal Basin, containing Corpus Christi Bay, Corpus Christi Ship Channel, Oso Bay, and Baffin Bay, is also located in the Nueces Flood Planning Region. This region includes six major reservoirs and crosses five ecoregions of Texas, including most of the South Texas Plains ecoregion.
For a detailed map of Region 13, please visit the Texas Natural Resources Information System (TNRIS) Flood Planning Regions Map Collection.
Go to Region 13 Nueces RFPG External Host Website
Population Estimate (2019): 782,528
Approximate Area: 24,094 square miles
Approximate Stream Miles: 17,044
Approximate NFIP Claims (1975-2019): $270,467,109
Counties Represented:
Aransas*
Atascosa*
Bandera*
Bee
Bexar*
Brooks*
Calhoun
Dimmit*
Duval
Edwards*
Frio
Goliad*
Jim Hogg*
Jim Wells
Karnes*
Kenedy*
Kerr*
Kinney*
Kleberg
La Salle
Live Oak
Maverick*
McMullen
Medina*
Nueces
Real*
Refugio*
San Patricio
Uvalde
Webb*
Wilson*
Zavala
*indicates this county is partially within this RFPG and is also represented by at least one other RFPG
Major Cities (Population greater than 25,000):
Corpus Christi
Kingsville
Major Lakes & Reservoirs:
Barney M Davis Reservoir
Choke Canyon Reservoir
Lake Corpus Christi Reservoir
Tailing Ponds
Tailing Ponds No. 2
Upper Nueces Lake
Ecoregions of Texas Represented:
Blackland Prairie
Edwards Plateau
Gulf Prairies
Post Oak Savanah
South Texas Plains