Region 10 Lower Colorado-Lavaca Flood Planning Region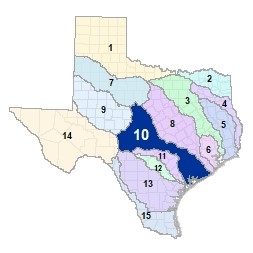 As the lower Colorado River emerges from O.H. Ivie Reservoir, it crosses the High Plains and Cross Timbers ecoregions on its way to the Edwards Plateau. The San Saba, Llano, Pedernales Rivers and their many tributaries all feed the lower Colorado as it passes through the Highland Lakes of central Texas. The lower Colorado makes its final dam crossing at the end of Lady Bird Lake in Austin on its way to Matagorda Bay. From its headwaters in Gonzales County, the Lavaca River flows to Lavaca Bay, which drains to the Gulf of Mexico. There are 20 major lakes and reservoirs in the Lower Colorado-Lavaca region, and no other river system crosses as many ecoregions along its course.
For a detailed map of Region 10, please visit the Texas Natural Resources Information System (TNRIS) Flood Planning Regions Map Collection.
Go to Region 10 Lower Colorado-Lavaca RFPG External Host Website
Population Estimate (2019): 1,877,786
Approximate Area: 24,380 square miles
Approximate Stream Miles: 20,493
Approximate NFIP Claims (1975-2019): $354,032,694
Counties Represented:
Austin*
Bastrop*
Blanco*
Brazoria*
Brown*
Burnet*
Caldwell*
Calhoun*
Callahan*
Coleman*
Colorado
Comanche*
Concho*
De Witt*
Eastland*
Edwards*
Fayette*
Fort Bend*
Gillespie*
Gonzales*
Hays*
Jackson
Kendall*
Kerr*
Kimble
Lampasas*
Lavaca*
Lee*
Llano
Mason
Matagorda
McCulloch
Menard*
Mills*
Real*
Runnels*
San Saba
Schleicher*
Sutton*
Taylor*
Travis*
Victoria*
Wharton
*indicates this county is partially within this RFPG and is also represented by at least one other RFPG
Major Cities (Population greater than 25,000):
Austin*
Cedar Park*
Leander*
Pflugerville
Rosenberg*
Round Rock*
Victoria*
*indicates this city is partially within this RFPG and is also represented by at least one other RFPG
Major Lakes & Reservoirs:
Brady Creek Reservoir
Cedar Creek Reservoir Colorado
Cox Lake / Raw Water Lake / Recycle Lake
Eagle Lake
Hords Creek Lake
Inks Lake
Lake Austin
Lake Bastrop
Lake Brownwood
Lake Buchanan
Lake Clyde
Lake Coleman
Lake Lyndon B Johnson
Lake Marble Falls
Lake Texana
Lake Travis
Lake Walter E Long
Mud Lake No. 4
O H Ivie Reservoir
South Texas Project Reservoir
Ecoregions of Texas Represented:
Blackland Prairie
Cross Timbers
Edwards Plateau
Gulf Prairies
Post Oak Savanah
Rolling Plains
Regional Flood Planning Group Meeting Minutes & Updates
Please see the RFPG Meeting Schedule webpage for information on the past and upcoming meetings.