2022 State Water Plan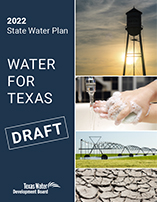 The 2022 State Water Plan marks a quarter century of Texas' widely recognized regional water planning process and the fifth state water plan based on the work of hundreds of water planning stakeholders. The state's water planning process is founded on extensive data and science and guided by a robust state framework that requires all 16 regional water planning groups to openly and genuinely address all their water supply needs. This plan sets forth thousands of specific, actionable strategies and projects—costs and sponsors included—that clearly demonstrate how Texas will be able to withstand future droughts. Our agency works diligently to continually improve data collection, water science, and other tools in support of better planning, which ultimately result in water projects with tangible benefits for the state.
2022 State Water Plan Adoption
After consideration of public comments, the Board will consider adopting the 2022 State Water Plan at a regularly noticed and scheduled Texas Water Development Board meeting tentatively scheduled to be held in July, 2021.
Draft 2022 State Water Plan Documents
Interactive State Water Plan
2022 State Water Plan Interactive Site is under development
2021 Regional Water Plan Summaries
2021 Regional Water Plan summaries are under development
2021 Regional Water Plans