Region M Planning Group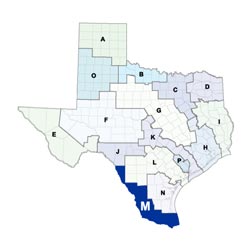 Stretching from the subtropical Gulf shores of Cameron County in the south and along the Rio Grande to the rolling, native range land of Maverick County in the northwest, the Rio Grande Regional Water Planning Area includes eight counties. Its major cities include Brownsville, McAllen, Laredo, Harlingen, and Eagle Pass. Over 60 percent of the region lies within the Rio Grande Basin, with the Rio Grande being the region's primary source of water. The largest economic sectors in the region are agriculture, trade, services, manufacturing, and hydrocarbon production. The Rio Grande, its tributaries, and an international reservoir system will remain the region's primary source of water for the foreseeable future.
Region M Counties
Cameron
Hidalgo
Jim Hogg
Maverick
Starr
Webb
Willacy
Zapata
Meeting Minutes & Updates
Upcoming Planning Group Meeting Schedule
Last Meeting: The most recent Rio Grande (Region M) Regional Water Planning Group (RWPG) regular meeting was held on July 1, 2020 in Weslaco, Texas.
Meeting Minutes: Visit the "Meetings"/"Minutes" link on Region M's External Website for official planning group meeting minutes.
Next Meeting: The next Rio Grande (Region M) RWPG regular meeting has been scheduled for Wednesday, September 16, 2020 at 10:30am place TBD.
Region M Bylaws
Region M Water Plans
TWDB Contacts for Region M
For regional water planning assistance, please contact William Alfaro, Region M Project Manager.
For regional water project development assistance, please contact Mireya Loewe, Team 6 Manager.