Region K Planning Group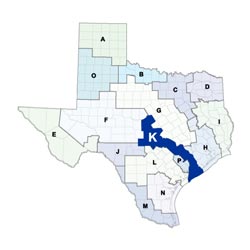 The Lower Colorado Regional Water Planning Area is composed of all or parts of 14 counties, stretching from Mills County in the Hill Country southeast to Matagorda County on the Gulf Coast. Most of the region lies in the Colorado River Basin. Major cities in the region include Austin, Bay City, Pflugerville, and Fredericksburg. The largest economic sectors in the region include agriculture, government, service, manufacturing, and retail trade. The manufacturing sector is primarily concentrated in the technology and semiconductor industry in the Austin area. Oil, gas, as well as petrochemical processing, and mineral production, are found primarily in Wharton and Matagorda counties near the coast.
Region K Counties
Bastrop
Burnet
Blanco
Colorado
Fayette
Gillespie
Hays (partial)
Llano
Matagorda
Mills
San Saba
Travis
Wharton (partial)
Williamson (partial)
Meeting Minutes & Updates
Upcoming Planning Group Meeting Schedule
Last Meeting: The most recent Lower Colorado (Region K) Regional Water Planning Group (RWPG) regular meeting was held on February18, 2020 in Austin, Texas.
Meeting Minutes: Visit the "Past Public Meetings & Materials" link on Region K's External Website for official planning group meeting minutes.
Next Meeting: A Lower Colorado (Region K) RWPG regular meetings have been scheduled for 10:00am, Wednesday July 15, 2020 at LCRA's Dalchau Service Center, 3505 Montopolis Drive, Austin 78744.
Region K Bylaws
Region K Water Plans
TWDB Contacts for Region K
For regional water planning assistance, please contact Lann Bookout, Region K Project Manager.
For regional water project development assistance, please contact Dain Larsen, Team 5 Manager.