Region D Planning Group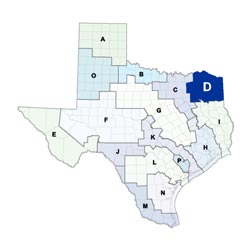 The North East Texas Regional Water Planning Area encompasses all or parts of 19 counties. Largely rural and characterized by numerous,small communities and some medium-sized municipalities, the region includes the cities of Longview, Texarkana, and Greenville. The planning area overlaps large portions of the Red, Sulphur, Cypress, and Sabine river basins and smaller parts of the Trinity and Neches river basins. The North East Texas Region's main economic base is agribusiness, including a variety of crops, as well as cattle and poultry production. Timber, oil and gas, and mining are significant industries in the eastern portion of the region. In the western portion of the region, many residents are employed in the Dallas-Fort Worth metropolitan area.
Region D Counties
Bowie
Cass
Camp
Delta
Gregg
Franklin
Harrison
Hopkins
Hunt
Lamar
Marion
Morris
Rains
Red River
Smith (partial)
Titus
Upshur
Van Zandt
Wood
Meeting Minutes & Updates
Upcoming Planning Group Meeting Schedule
Last Meeting: The most recent North East Texas (Region D) Regional Water Planning Group (RWPG) regular meeting was held on Thursday, August 1, 2019 in Mount Pleasant.
Meeting Minutes: Please contact Region D's Political Subdivision for official planning group meeting minutes.
Next Meeting: A North East Texas (Region D) RWPG regular meeting has been scheduled for 1:00pm Thursday September 19, 2019, at the Mount Pleasant Civic Center, 1800 North Jefferson St., Mount Pleasant, Texas.
Region D Bylaws
Region D Water Plans
TWDB Contacts for Region D
For regional water planning assistance, please contact Ron Ellis, Region D Project Manager.
For regional water project development assistance, please contact Luis Farias, Team 3 Manager.