From County Line to Coastline: Sustaining Texas Bays and Estuaries August 2016
Known for beautiful beaches and entertainment for all ages, the Texas Gulf Coast draws Texans and non-Texans alike year-round. In addition to vacationers, something else is drawn to the 367 miles of Texas coastline between the Louisiana border and the Rio Grande Valley: water!
Eleven major river basins and eight coastal basins flow to the Texas coast, bringing freshwater from across the state into individual bays and the Gulf of Mexico. Here, surrounded by barrier islands, estuaries are formed through the mixing of freshwater and seawater and are home to unique plant and animal ecosystems that have adapted to brackish water. Texas has seven major and five minor estuaries covering 1.5 million acres along the Texas Gulf Coast.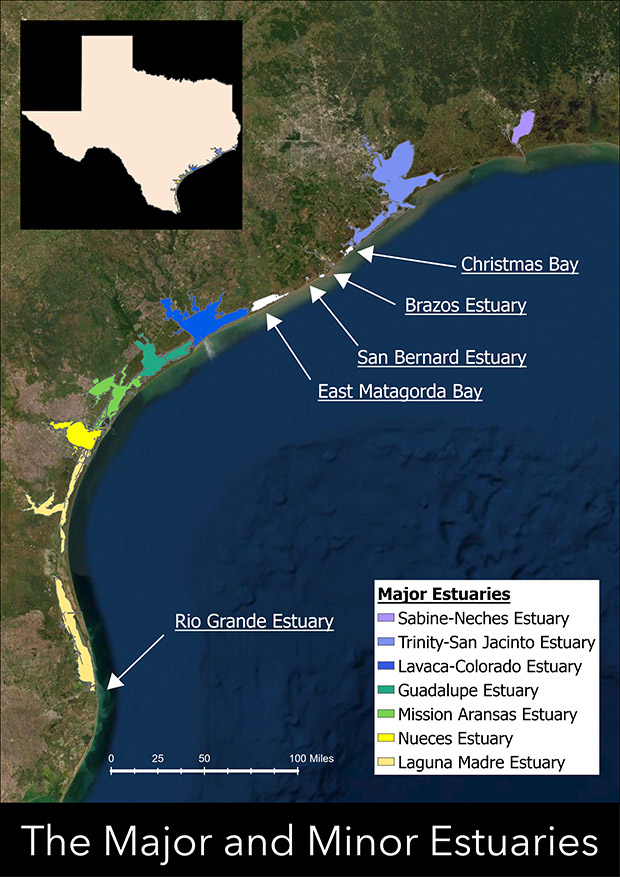 Although each estuary differs in size, hydrologic, and ecological characteristics, together they support a diverse array of species that serve as the raw materials for economic activities associated with commercial and recreational fishing, hunting, and birding. Think about the millions of delicious pounds of shrimp, fish, oysters, and small crabs that the Texas Gulf Coast yields each year!
In addition, estuaries provide many ecological services. Freshwater inflow to estuaries is important to the health of an estuary for a variety of reasons, such as maintaining a salinity gradient critical to fisheries habitats, flushing pollutants, providing occasional pulses to reset the biogeochemical system, delivering sediments that maintain delta wetlands and shorelines, and providing nutrients that fuel biological productivity. However, extreme events such as flood or drought can have negative impacts on estuarine organisms.
When freshwater inflow to a bay decreases, particularly as can occur during drought periods, salinity in the bay increases, which affects biological communities. Increased salinity creates marine-like habitat conditions that are unsuitable for certain estuarine organisms but favorable to others such as marine predators or parasites. Perkinsus marinus (commonly referred to as Dermo) is a parasite that can be fatal to oyster populations and typically occurs during extended periods of high salinity conditions. Additionally, reduced freshwater inflow results in the reduced delivery of nutrients and sediments to estuaries.
Although we're a large state, river flows throughout Texas affect our bays and estuaries; it's all connected. The Trinity-San Jacinto Estuary, commonly referred to as Galveston Bay, is the largest estuary in Texas and typically receives 12 million acre-feet of freshwater inflow annually from the Trinity River, San Jacinto River, and surrounding coastal basins. This estuary is affected by water usage from Dallas down through Houston.
Continuously monitoring and studying freshwater inflows and other water quality characteristics is necessary to ensure healthy ecosystems within Texas bays and estuaries. The Bays and Estuaries Program—one of the Texas Water Development Board's (TWDB) oldest surface water programs—does this and more. Stakeholders and scientists across the state regularly request our data and modeling simulations for their own analyses of estuarine ecosystems and the impact of freshwater inflows.
The program develops estimates of the volume of freshwater inflow entering the bay systems along the Texas coast and maintains a database of historical inflows. The estimates are calculated using stream gage data collected by the U.S. Geological Survey in gaged watersheds and stream flow estimations using TWDB's Texas Rainfall Runoff Model (TxRR) for ungaged watersheds. Customer requests for this data can be directed to coastal-data@twdb.texas.gov.
In partnership with the Texas Parks and Wildlife Department, the Estuary Monitoring Program, also known as the Datasonde Program, collects water quality data at select locations within each estuary. Some locations have been monitored continuously since 1986. The salinity data (which can be accessed at waterdatafortexas.org/coastal) is used to calibrate and validate hydrodynamic and salinity transport models and monitor bay conditions. The data is also used in various analyses to better understand the effects of and needs for freshwater inflow.
TxBLEND is a hydrodynamic and salinity transport model created by the TWDB to simulate the effects of freshwater inflow, tides, and other meteorological factors on bay circulation and salinity patterns for all of the major bay systems of the state. One of the program's special projects, in partnership with the Guadalupe-Blanco River Authority, is current data collection using tiltmeters to better understand circulation patterns in San Antonio Bay. The data will be used to calibrate and validate the TxBLEND model of San Antonio Bay, too.
TxBLEND is also used to provide near real-time and forecast simulations of water circulation to assist the Texas General Land Office's Oil Spill Prevention and Response Program in the event of an oil spill. In fact, the TxBLEND model correctly predicted that Matagorda Bay would not be impacted after an oil spill that occurred in Galveston Bay's Houston Ship Channel on March 22, 2014, spread offshore.
Texans treasure their Gulf Coast, and the TWDB Bays and Estuaries Program helps to ensure that needed data is available to understand and protect this important coastline.