Desalination

In April 2002, Governor Rick Perry tasked the Texas Water Development Board (TWDB) with developing a proposal to build Texas' very first large-scale seawater desalination plant to produce drinking water. The following year, the Texas Legislature passed House Bill 1370 directing the agency to undertake or participate in research, feasibility and facility planning studies, investigations, and surveys as needed to advance the development of cost-effective water supplies from seawater desalination in the state.
Since Governor Perry's proclamation in 2002, the TWDB has expanded its scope of desalination activities to include brackish groundwater, an abundant source of supply in many areas of the state.
What's New
Reports
Guidance Manual for Permitting Class I and Class II Wells for the Injection and Disposal of Desalination Concentrate, 2014
Developing Practical Alternatives to Pilot Plant Studies, 2014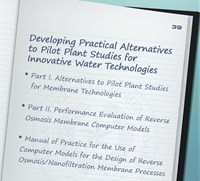 2015 Meeting Announcements
Disclaimer: Links to and information about Web sites outside the TWDB are provided solely for the convenience of the user and do not constitute an official endorsement of the information, products, or services contained therein.